WEIGHT LOSS SUCCESS STORIES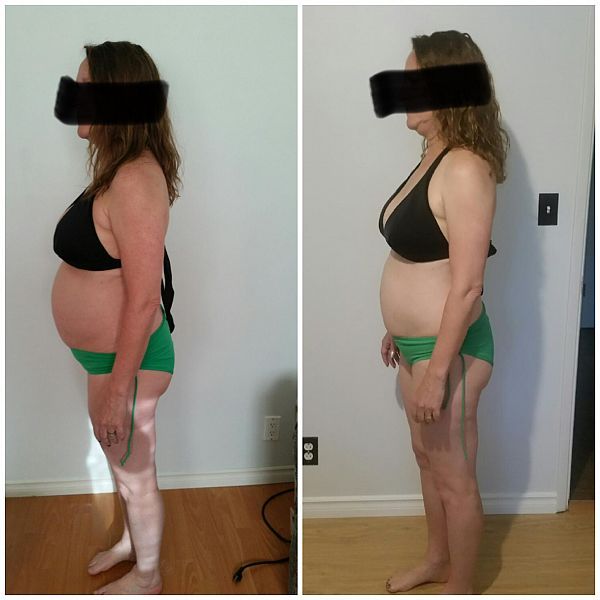 I FEEL THIS IS HEALTHY
D
Down 15lbs and 23.25 inches in 8 Weeks
"I feel this is healthy." And that's exactly the way it should be! "D" is a health care worker who has always tried to make healthy choices and stay active but with changes over the past year, the weight started creeping back up. "D" was even walking half an hour each way to work and back and still couldn't get the weight to move. "D"'s hubby, "C", contacted FIT Nutrition as he also wanted to lose some weight and get healthier and they both started living the program together. At the end of 8 Weeks, "D" had shed 15lbs of the 20lbs she wants to lose and says she is really enjoying how she feels, the way clothes are fitting and that she can still go out for lunch with the girls. "D" is enjoying her healthy lifestyle and plans to stay the course, continuing living the program.
JUST LIKE I WAS IN MY 20S
C
Down 31lbs and 27.25 inches in 8 Weeks
"Normally I'm out of breath mowing the lawn. The other day I powered right through it like I was in my twenties!" In just 8 Weeks "C" passed the halfway marker on his way to achieving his weight goal. Along with that, he's feeling good and has more energy. "C" had always believed in home cooking and tried to make healthy choices. In fact he was the one doing a lot of the cooking. What he didn't realize is that even healthy food needs to be balanced and in portions the body can metabolize. "C" said he finds the program easy and has made it a lifestyle, prepping and taking balanced meals and supplements to fill the gaps with him on vacation and even out hunting with the guys. "C" and his wife "D" continue to live the program and are loving the results!
PROFESSIONAL DANCER TONES UP!
Loretta
Down 12.6lbs, 11% body fat
"It was an amazing experience working with Tania. I have reached my weight loss goal and my husband is still progressing with his. Tania is so positive and encouraging!! She truly cares about her clients and we can say we also now have a new friend. I would highly recommend her services to anyone whether you have 5 or 50 lbs to lose. Just learning good clean, healthy eating is a good thing for everyone regardless if you need to lose weight or not. Give her a call like we did! :)" As a professional dancer and instructor, Loretta's issue was not a lack of exercise, but rather it was food. In her late 50's, Loretta was unhappy with that "little extra" that had accumulated around her waist and after just 12 weeks on the program was able to hit her goal.
NEVER LOST WEIGHT ON ALL OTHER DIETS
Kathy
Goal was 10lbs, lost 15lbs
"This program is the only program that explained why I never lost weight on all the other diets I've tried all my life. As I followed it with the help of Terrific Tania, the weight just fell off me. I had a 10 pound goal but ended up losing 15. My husband watched me for a few weeks and then also got on track and lost 13 pounds which was his goal. It explained what I had to do to understand whay the body needs to make it healthy and a burning machine. Tania was excellent with helping me through the 8 week program and was always there when I had a question."
ON OF THE BEST DECISIONS WE EVER MADE
CD
"Enough is enough," I said. My husband had just come home from the doctor saying he now has to go on diabetic medication.
My heart sank and a feeling of helplessness came over the both of us. My husband had several other health issues we were dealing with and we were doing our best to prepare healthy meals but it was clear we needed help... During the pandemic, I had put on weight, was feeling sluggish and stuck. We needed an intervention and wanted to do this together... Our coaching meetings with Tania were instrumental. We love that she is a no nonsense, down to earth, friendly, knowledgeable Coach who seems to genuinely care about her clients... after six months into a healthier eating lifestyle that focuses on meals balanced with protein, carbs and fats, my husband and I have lost weight. We feel more empowered having learned how to prepare meals that prevent spikes and crashes with our blood sugar and that gnawing feeling everyday of being down on myself from the weight gain, has lifted. I always knew what healthy foods were, I just didn't know how to put it all together. Now my husband and I know what 'cleaner' foods are, the ones that help reduce inflammation, lower blood sugars and help prevent disease....One of the best decisions my husband and I have ever made, was to hire Tania to help us learn and implement a new eating plan. We are grateful for Tania's expertise and we highly recommend her – thank you Tania!
OFF BLOOD PRESSURE MEDS IN 4 WEEKS
Ken
Health restored
Hi Tania.
In the past 2 years, I have had a stroke, ongoing hormone therapy for prostate cancer, a diabetes diagnosis and suffered a bad bout of COVID despite my 3 vaccinations. My strength, stamina and coordination were at an all-time low. At 64 years old, I was ready to resign myself to the fact that I was no longer going to be able to physically enjoy aspects of my life that I formerly took for granted, such as swimming, pulling myself onto a dock without a ladder, doing household repairs and tests that require lifting anything over 25 pounds. After 4 weeks on the food program my blood pressure lowered enough so I could go off my blood pressure medication, my energy levels have increased so I can resume exercise and my strength and coordination have returned so I can weight train to regain some of the muscle tone I have lost over the past 2 years of no activity.
MISERY TO HALF MARATHON
Michelle
Down 23lbs and 4% body fat in just 8 weeks
"...the detox was life changing..." Fast forward to today and she is down a total of 44lbs, 9% body fat and telling people, "I have embraced the lifestyle with both hands. I'm living the life I've always wanted." Check out Michelle's story here.
EXERCISE WON'T GUARANTEE WEIGHT LOSS
Brent
Down 52lbs, 20% BF and 32 inches
"It doesn't really matter how much you exercise if you don't know how to balance your food." Just one of the many things Brent discovered during his program. Brent always exercised and described himself as one of those people who could eat whatever they wanted and not gain weight. Things changed when the craziness of covid happened globally and like so many others, Brent started gaining weight. After just 8 Weeks living the program, Brent was down 31lbs and after 6 months, he'd crushed his goal and had shed 52.6lbs, 20.4% BF, and 32.75 inches. In our last coaching call, Brent commented, "I never thought it would be this easy." Check out Brent's blog story here and watch our interview with Brent on LIVE FIT podcast.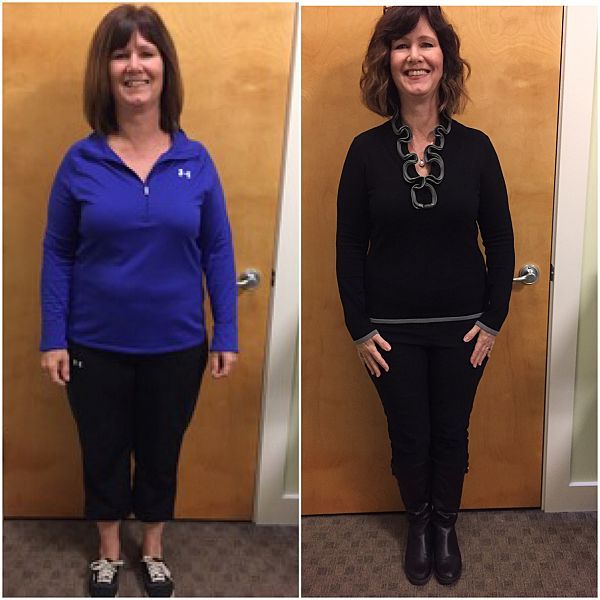 STAYING ON PLAN WAS EASY
Joelle
Down 20lbs in 8 weeks
Joelle had been neglecting herself and over the years, weight began to increase until she finally had enough and was desperate to get her body back. "Staying on plan was easy....I've lost 20lbs in 8 weeks, half way to my goal already..." Watch Joelle's story
MASSIVE CHANGE IN 8 WEEKS
Dakota
Down 14lbs and 3% body fat in 8 Weeks
"Original photos. No edits. This is so exciting to see the chage in 8 weeks" was the text that came along with this picture. As a young business owner, Dakota often wears many hats to keep things running smoothly. Many times this meant working well into the late hours, not eating properly - or at all - and relying on coffee to make it through the day. Dakota soon realized that neglecting his health wouldn't serve him or his business and decided to make some healthy changes. Dakota's swapped out coffee for a protein shake and lots of water, has healthy PFC meals ready to go and all that new-founded energy has him back in the gym working out. If Dakota can do it, you can too!
RESULTS BEYOND 8 WEEKS!
Bonita
Down 20lbs in 8 weeks
"Testimory to Tania Gustafson's program. I lost over 20lbs in 8 weeks doing Tania's program, kickstarting a healthier lifestyle and am now finally under that 150lb threshold! At 149.5 and closer to my weight loss goal of 140lbs. Thank you for your help and encouragement on the journey, Tania."
LOST WEIGHT TO AVOID KNEE SURGERY
Bruce
Down 20lbs in 8 weeks
Bruce works long days, often only eating once or twice each day. Bruce learned that without enough fuel, his body was storing everything he did give it, as fat. Once he learned how to eat to stabilize blood sugar, Bruce's metabolism turned on and the weight came off. "Thanks Tania, I'm happy I've had your help with just the little changes and how it makes me feel that much better"
NEVER FELT BETTER
Nancy
Down 70lbs, 57lbs without exercise
After a serious car accident left her with severe back injuries and unable to exercise, and at the heaviest she'd ever been, Nancy started the program and dropped the first 57lbs without any exercise. With the extra weight off, eating balanced, healthy meals and taking specific supplements to help ease pain and inflammation, Nancy was able to start exercising and is now down 70lbs and wearing a size small!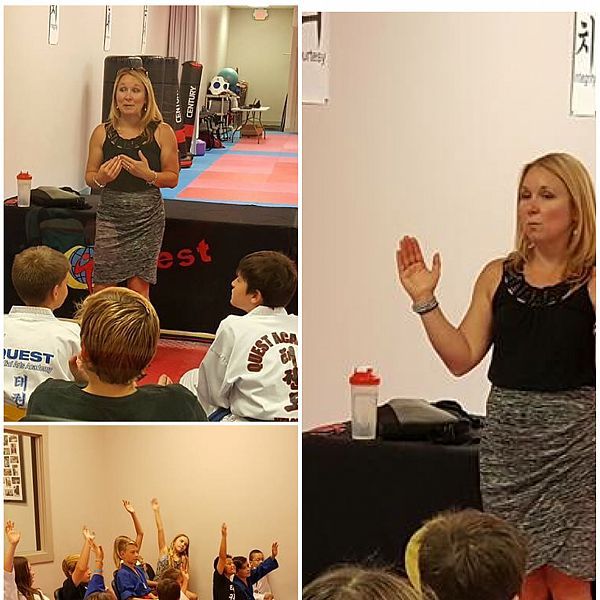 KIDS CAN PFC TOO
Quest Martial Arts Academy Leadership Summit
Creating healthy habits
"10 - 12 year olds listening to the knowledge and passion of Tania Gustafson of FIT Nutrition! So glad she came to present at our leadership summit!" Chris Rowe, Owner, Quest Martial Arts Academy
"Tania was phenomenal!! Lucas & Mary came home with such amazing knowledge and we will change some of our bad eating habits because of her. Thank you so so much for everything they learn with you truly a gift to have Quest in our life." Melanie, parent of a Quest Kid
Check out Quest's amazing programs for kids at http://www.kelownamartialarts.com/
YOU DON'T HAVE TO BE PERFECT
Kristen Diehl, 103.9 Juice FM
Down 9lbs, 9 inches, 2% BF
"Far from perfect, but I committed to becoming the best version of myself I could be and found results - you can too! Basically, for me it was like hitting reset on life and getting on a path that I could continue in the long term.....Tania Gustafson is like my own personal cheerleader!" Listen to Tania and Kristen on air.
IT'S WORTH THE EFFORT WHEN YOU SEE THE RESULTS
Sherry Huva
Down 21lbs, 7.6% BF and 8.5 inches
"It's crazy even the difference just in the last 8 weeks alone. Using the line of products made it easy to have a completely balanced meal of protein, fat and carbs even on the go. It's worth the effort when you see the results."
IT'S SO NICE TO BE ABLE TO FIT INTO MY CLOTHES AGAIN
8 Weeks Client Comments
Non-scale victory
The number on the scale isn't, and shouldn't be the only way to measure success. This 8 weeks client is a prime example, loving the way she fits back into her clothes again.
"What I enjoyed the most were my personal coaching sessions with Tania. She gave me the information and tools to reach my goals. It's so nice to be able to fit into my clothes again!"
WHAT THE GROUPS ARE SAYING
End the Dieting Madness Group Participants
Down 10lbs and counting
Comments from community group participants.....
"(I enjoyed) learning about the protein, carb and fat balance, learning how to read labels better. Great program, down 10 lbs and counting. Tania you are a great motivator and I am excited to see more results as I continue on this very easy lifestyle."
"I saw/felt results very quickly..."
"I have more energy, feel better, clothes fit better.."
"I'm not hungry and I'm not always thinking of food...I'm enjoying this way of eating and it's working!"
"My body is probably happier than it's ever been. It just makes so much sense."
"It's not a diet it's a way of healthy eating and it's something I'm going to continue for the rest of my life."
LOST WITH WEIGHT WATCHERS TWICE AND REGAINED BOTH TIMES
Linda (Ontario)
Has the tools and knowledge to carry on
Linda was just like so many others, willing to do the work, but diets simply were not providing her with the education and tools she needed to take the weight off and keep it off long term.
"I have lost weight with Weight Waters twice and regained it both times...Initially was uncertain of eating so often as I was not accustomed to that..... It did not take long to grow accustomed to it though.....I have been satisfied with the results..... not the large numbers I see posted on FBook, (but) I have made my own progress .....I also had several cheats and went off program but got right back on the next day. I was hesitant to take a (before) picture (and after) at the 8 week mark but was pleased to "see" the difference. I have Tania to thank for that plus her pleasant style of coaching along the way, very supportive and encouraging. I feel I have acquired the tools and knowledge to carry on and also know that Tania is just a call or text away for additional help."
NO AFTERNOON SLUMP
Colleen McCallum
Loved the program and my coach
Q: Have you tried dieting in the past? If yes, please list.
A: Yes, less junk and restricted calories and fat.
Q: Prior to enrolling in 8 Weeks Is All It Takes with Tania Gustafson of FIT Nutrition, had you heard of losing weight through blood sugar stabilization and/or the Body Confidence program?
A: Nope!
Q: What did you enjoy most about the program? If still currently participating in the program, are you pleased with your results thus far?
A: I enjoyed the encouragement from my coach first! I also enjoyed the feeling of no afternoon slump and never feeling ravenous.
Q: Did you or are you currently using the recommended meal replacements and supplements? Would you recommend them to others?
A: Yes m'am; I would/have recommended them to others.
Q: Do you feel that you have acquired the knowledge and tools necessary to continue living the program and loving your life?
A: I have changed the way I think about eating. As a child I very rarely ate breakfast as my dad didn't.
Your comments please:
Loved the program and my coach. You (Tania) are so encouraging; I never felt defeated in my efforts. This is something that will always be in the forefront of my thinking when I go out to eat and also on a daily basis.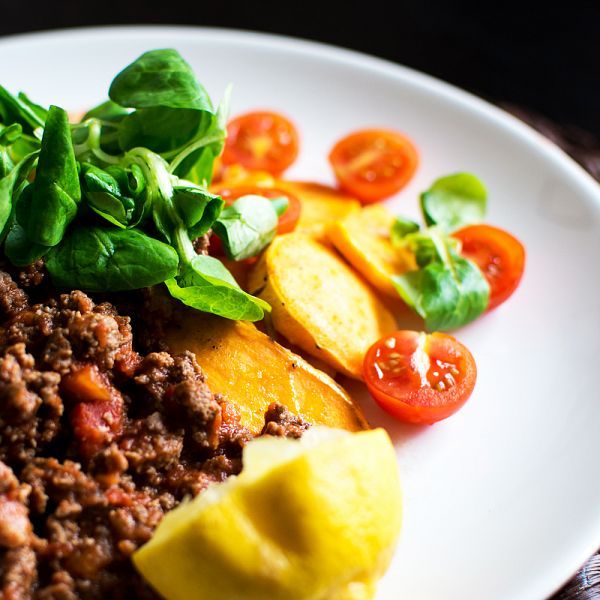 I WILL CONTINUE TO LIVE THIS WAY
Rob McCallum
Lost weight and got healthy without dieting
"Really enjoyed not dieting and losing weight and getting healthy at the same time. I will continue to live this way. I am reading through the Body Confidence book and will continue to educate myself. I'm hooked. I don't miss sugar, dairy or grains, actually feel liberated, awesome.
I am a big believer that you are the sum total of your thoughts or your way of thinking. So if you don't change your thinking you won't realize the change on the outside you desire., (Definition of insanity). When I first started "8 weeks is all it takes" I made a commitment to study even more about what I was putting into my body and so on. Mark's book was huge in that. As a testimony, one of the things we had to do initially was cut out grains, which I later learned because of that, was an issue for me. So I went to reading more about and now my thinking is changed and I can't go back. Grain was the source of a fair bit of joint pain and is for most people. Now, no grain, no pain (great book). I am feeling better more and more all the time and am convinced that aged related pain is just bad food choices and lack of exercise culminating in achy joints and arthritis. So change on the outside will always be preceded by change on the inside, or your way of thinking and beliefs. Your "why", providing it agrees with your moral beliefs, just grounds and establishes those beliefs. Food for thought...hehe."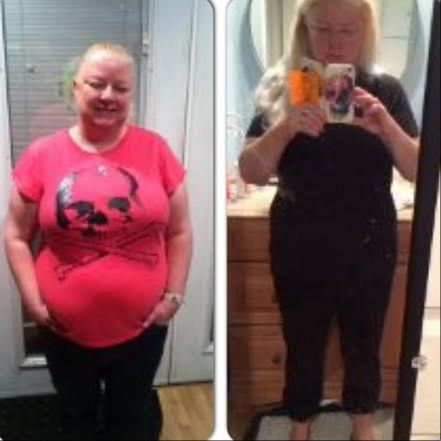 I HAVE NEVER LOST THIS MUCH WEIGHT BEFORE!
Kristine Bish
Down 33lbs, over 23 inches and from size 18/20 to size 12/14.
"It was tough at first but after the first 8 weeks I started seeing results, my blood pressure has dropped and I haven't had a panic attack in a year! Thank you to my wonderful coach Tania Gustafson for changing my life."
LOWEST WEIGHT SINCE SOPHOMORE IN COLLEGE!
Stephanie Tisdale (Texas)
Down 13lbs and almost 10 inches!
Stehpanie is a veteran, wife, mom and she's no slouch when it comes to working out. Even though she has a personal trainer come to her house to put her through the paces, it wasn't until Stephanie learned how to use food to create hormonal balance and stabilize blood sugar that she got the results she was looking for.
"Today I went shopping at my favorite store, Athleta. I usually wear larges and 10/12s. Today, I'm in mediums and 8s...and they aren't tight!!! This program works. I love it! Thank you, Tania, for your awesome support!!!"
AMATEUR BODYBUILDER FOLLOWS PFC
James Pham
Lean, clean results
James Pham, a gymnastic's coach who also teaches tricking and parcour at Kelowna Gymnastix, competed in his first amateur body building competition held recently in Kelowna and took home second. Following clean eating, balancing his PFCs (protein, fats and carbs), using quality protein supplements, and training regularly is what James credits to his success. With such fantastic results the first time out, I believe James will continue to improve and refine his physique so that next year he will claim first place. Congratulations James!
PEOPLE ARE CONSTANTLY TELLING ME HOW GREAT I LOOK NOW
C. Peter Capozzi
Lost weight and adapted excellent eating habits
The very best thing that happened is I stopped feeling hungry all the time. Sugar cravings, which were a constant battle for me, were gone. When it came to meal times I wonderfully felt satisfied already and it didn't take much to fill me up as long as I didn't detour from the menu. What a pleasant way to lose weight. I have lost weight and at the same time have adapted excellent eating habits that don't trouble me. My eating times actually come up on me so quickly that the only trouble I end up having is finding the time to eat.......This is incredible to me.
My exercise program has become easier also and I realize that I can do way more now. The recommended supplements are a life saver. Not only have they been delicious but wow what a time saver when I am rushing about. I really really enjoy the shakes and the bars. I could probably live just off of these but my nutrition coordinator won't allow me!
Recommending Tania Gustafson to others is something I wouldn't hesitate one second about and I already have had the pleasure to explain to people the wonderful benefit of her as a nutritional coach. She is the most professional person in every aspect of this program. People are constantly coming up to me and telling me how great I look now. Even my roommates who see me everyday have taken notice and remarked at how much better I look and if you knew my roommates that is an extraordinary comment to receive from them! I am proud to be involved in this amazing program.
FEELING ENERGIZED, DON'T CRAVE SWEETS
Pamella Renzi B.A. B.Ed. M.Ed.
Looking at nutrition, not just losing weight
It is very difficult for me to be disciplined around food. I am a busy person and tend to grab something convenient and usually unhealthy.
Tania has helped me to slow down and prepare for planning more nutritious and balanced meals that give me more energy. People have noticed my skin is looking clearer. I have lost inches and some pounds, but most of all I feel energized throughout the day. I am eating a wider variety of foods, exercising more and Tania has encouraged and supported me in this process. She has been an excellent coach. At my last visit to the doctor he said, 'I wish all my patients were as keen as you on maintaining your health.'
I don't feel hungry. I don't crave sweet things and this is my biggest weakness. Everyone is saying how well I look , as well, as dropped those excess pounds. All my mother's side of the family are overweight. I am not following this trend. I want to live long, enjoy my life and above all, be healthy. Tania has helped me view my nutrition, not just losing weight, but that it is adopting a healthy lifestyle of eating.
NO MORE BACK PAIN
Mike
My body moves better and has freedom
Prior to meeting Tania I was suffering from a lower back injury but determined that I was going to get better. I just didn't know how to do it. I have always been athletic and knew bits and pieces of how to work out.....I didn't know how my back injury was going to react.....but I had to try. Tania was very welcoming and wasn't pushy about her way of doing things. In fact it was more about a way that would work out for me. And it did! Before long I was feeling my back and core getting stronger..... and I felt the muscles had more freedom. My core excercises are difficult but after a few weeks they are not so bad, then a few more weeks and I start looking forward to them cause I know I can win them over. Today is a different day....My body moves better and has the freedom to help out my back. It is a new day at the new school of working out and I look forward to my next training sessions with Tania.
GET FREE FIT TIPS FROM TANIA
Done with diets, deprivation and ready to live a life of food freedom? Sign up to receive my FIT Nutrition blog, and get started today.